Return Material Authorization

RESWELL Return Material Authorization (RMA) Process & Policy
For Reswell product support (Repair, Replace or Return), please complete download RMA (Return Material Authorization) Request Form before you send back toReswell .
This article outlines Reswell Return Material Authorization (RMA) process & policy.
Please read through this repair process and policy carefully!!!
Failure to follow this procedure and policy will cause delays.
Reswell endeavor to provide a clear RMA process for our distributors to follow and respond to RMA Requests within 24 hours of receipt.
1. Scope
This Process & Policy is just for Reswell overseas dealers. All products from Reswell overseas marketing which come with quality issues and can't be fixed by them or by RESWELL remote technical support (phone, email, video) but need to be returned to RESWELL to Repair.The return or replace reason must be the goods with quality issue and the products must be during the warranty period.
2. Tech Support Contacts
If your Reswell products exhibit some difficult failures which you can't solve or repair, you must contact the RESWELL Oversea Sales Service Department(ROSSD) to verify product failure. If the ROSSD engineer cannot correct the problem by remote support methods i.e. phone or Email or video support, customer can apply an RMA number from ROSSD. After ROSSD confirmation, customer can return the failure products to Reswell to repair ,replace or return..
RESWELL Oversea Sales Service Dpartment
Email: info@reswell.com.cn
Hotline: +86-010-51658220
SKYPE: reswellsales@skype.com
3. RMA Confirmation
Before the distributors return the failure goods to Reswell an RMA (Return Material Authorization) request form need to be filled to get the necessary your contact information and the products related information. Requests for RMA are typically processed during working day. RMA Confirmation will be accomplished by e-mail or FAX. When Reswell ROSSD engineer receive you filled RMA Request Form, we will estimate its reasonable and necessary. We will response to you within 24 hours after receiving your request. If the request is approved by ROSSD, we will assign an RMA number to you. In other words, the RMA Confirmation is an RMA form with the assigned RMA number and Reswell ROSSD special official seal. If your request is rejected byReswell ROSSD, please don't return any products to Reswell. This form must be put in the packaging when the product is returned. RESWELL reserves the right to reject the returned products without RMA number.
4. RMA Flowchart (Repair, Replace and Return process)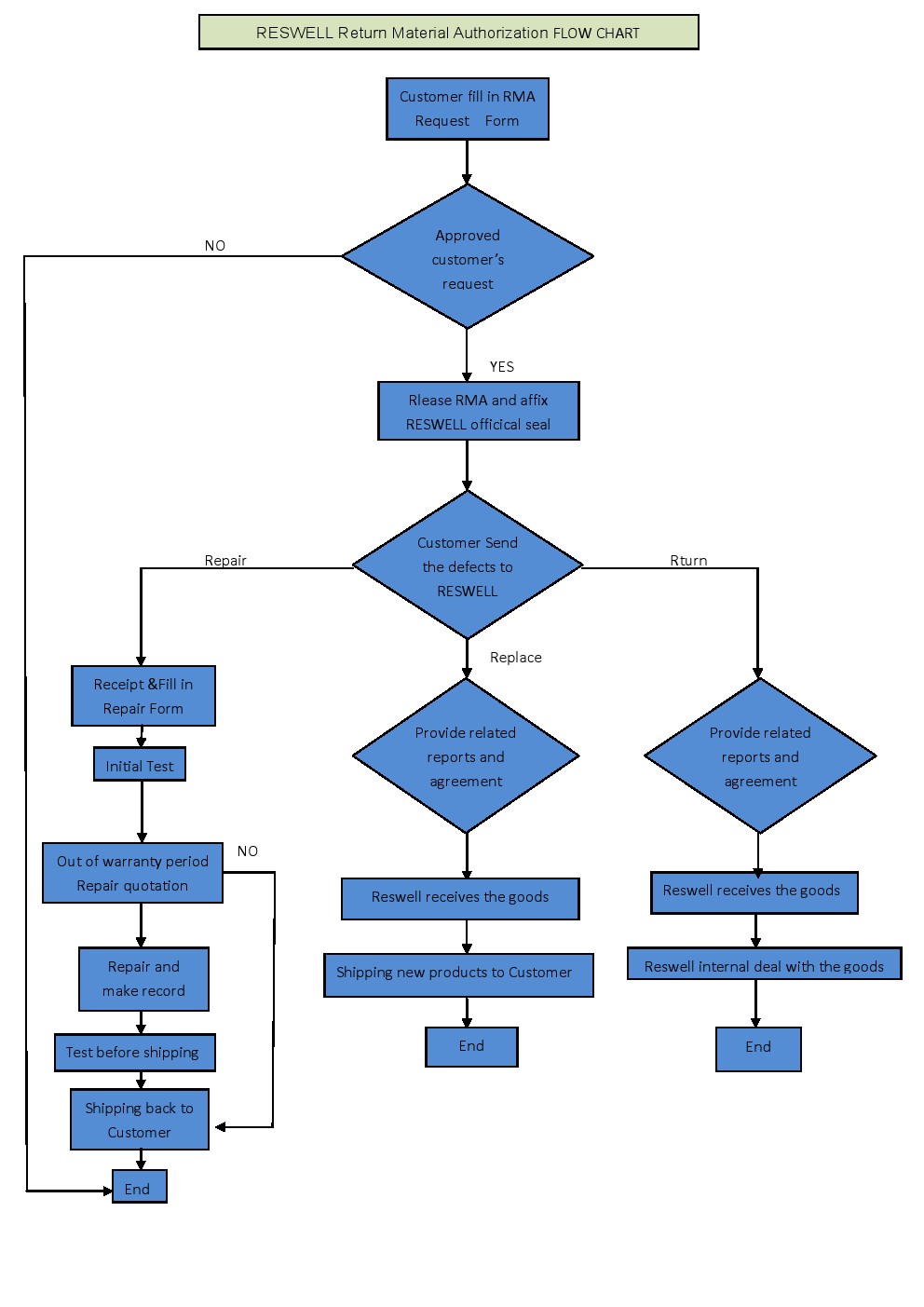 5. Packaging
Please follow these guidelines when returning product to Reswell:
Original packaging should be used if available to minimize the potential for shipment damage.
Do not return any products until an RMA number is issued. This number is necessary to ensure proper tracking and handling of returned material.
The RMA Request Form must be put in the packaging when the product is returned, which with RMA number and Reswell special official seal.
If items are damaged during return shipment due to insufficient packaging, it will be left to Reswell discretion to determine whether or not the product is repairable.
Please keep a record of the tracking number and ship date. These may be needed to track lost shipments.
The customer is responsible for the product until it is received by Reswell.
Reswell is liable for the returned item upon the receipt of shipment.
6. Delivery Charges
The customer is responsible for paying shipment charges when returning the product to Reswellto repair/replace/return
Reswell will pay for shipment of the repaired/return items which during the warranty period back to the customer.
7. Repair Standard Turn Around Time
The estimated Turn-Around-Time for most repair products warranty claims is 5 working days upon the receipt of the item. This starts when your faulty goods have been received by Reswell
8. Repair Charge
Reswell.is responsible for the repair charge for the goods during the warranty period.
If the goods is not under warranty, .All repair fees will be charged by the distributor.
Repair fee includes service fee and spare parts fee. After we receive your returned items, we will do initial test and then give you a repair quotation by phone before repair.
9. RESWELL Address
All returned defects machine should be shipped to the address which RESWELL ROSSD provides to you.
RMA request form please download from the website.
RESWELL Oversea Sales Service Department